Smoky Quartz is Free Fusions' interpetation of the fusion of Rose Quartz and Amethyst.
Appearance
TBA
Personality
Nothing is known about Smoky Quartz's personality yet.
Abilities
Smoky Quartz possesses standard Gem abilities, bubbling, shapeshifting, fusion, regeneration, agelessness, and superhuman strength/durability.
Gemology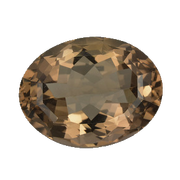 Gemstone Information
Smoky quartz has the repeating unit SiO2.
Smoky quartz ranges in color from light grayish-brown to deep black.
Smoky quartz can be opaque, but is almost always transparent to translucent, even when in its darkest color shade.
Smoky quartz is a very common gemstone, with not much importance in history. Only in very recent times has it become popular.
Smoky quartz is considered an efficient gemstone for cleansing and healing. It is believed to ward off negativity.
Smoky quartz is located all throughout the world. Major deposits include Brazil, Madagascar, Mozambique, Australia, Switzerland, Scotland, and the United States of America.
Smoky quartz is considered radioactive.
Gemstones
| Image | Description |
| --- | --- |
| | Amethyst's gemstone features a hexagonal facet. It is a tetradecahedron, specifically a truncated hexagonal dipyramid. |
| | Rose Quartz's gemstone on Smoky Quartz features a pentagonal facet. It is a dodecahedron, specifically a truncated pentagonal dipyramid. |
Community content is available under
CC-BY-SA
unless otherwise noted.